Seven Knights Korean Server Update 11 April 2016 : New Improvement Selectable Hero Summon
- Now you can see full veiw of hero and skills when use selectable hero summon.
- Improvements
Preview options add functionality


-

the hero is selected Encyclopedia

UI

has been added

.
-

When selecting the skill of the hero, the hero

/

You can check the stats

.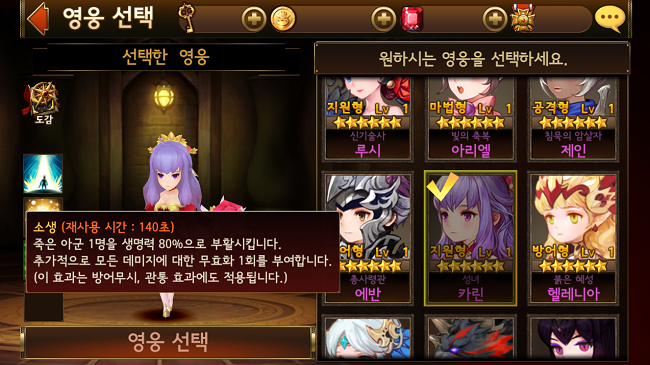 ■ Attendance Check dashboards to improve
-

Acquisition dialogue box is main chat window and the split will be shown

.
※ If the chat window improve the image can be changed from above

.
- Bugs and bug fixes
-

Such as heat buff is correct, the wrath of the skill of the lean solvent hero in a situation that is in effect phenomenon that also applies to the other row buff
-

All depends phenomenon did not apply because the amplification is amplification of the drill depends, El hero Goku
-

Trinkets crafted by

2

options

[

beneficial buff removed

+

instant death effects

-

the life force is applied when attacking

one

by

one

to survive once passive phenomenon that did not apply
-

Intermittent phenomenon hero does not apply above a certain limit to the maximum value Attack damage when attacking skills
-

Boss After entering

10

symptoms that were deducted when the number of times within a second exit
-

Guide Quest Guide quest disappearing phenomenon Details Go back upon
-

Developing gaming push checks set in the option does not proceed normally,
- GvG ban list : Hellenia, Delonse, Rudy, Jeiv, Wukong, Teo, Noho (same)
- End event > None